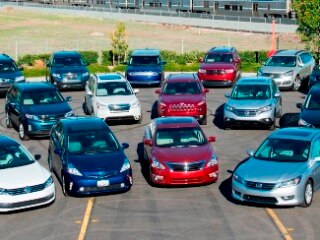 Every April issue of

Consumer Reports

magazine is devoted to automobiles, new and used. The 2014 top picks include two Honda and two Subaru models, as well as models from Tesla, Toyota, Audi, BMW, Hyundai, and Chrysler.
This year's ratings section compares over 260 new vehicles, from subcompacts to SUVs. The vehicles are rated on road test scores, fuel economy, reliability, and more.
The used cars section includes an article on reliable used cars for every budget, and an article with tips for used-car buying.
To go along with the vehicle ratings, this issue features an article on the top tires (in seven categories). One especially interesting article is on the feasibility of self-driving cars, and how the crash-avoidance systems in some of today's cars are just the beginning.
Each branch of the Fauquier County Library has the print issues of
Consumer Reports
from 2010 up to the current issue. The
Find It Virginia
databases have an index to the issues from February 1, 1976 to the current issue, and the full-text of the reviews from January 1, 1999 to June 1, 2009. You can access
Find It Virginia
from any library computer, or from home with your valid Fauquier County Public Library card.
Reference Staff @ Warrenton
To learn more about the Fauquier County Public Library's
collection
,
events or programs
, visit us on
Facebook
,
Twitter
or
online
.