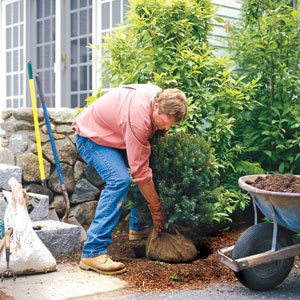 Fall planting time is here and maybe you're looking forward to sprucing things up a bit around your house. For the really hard stuff you may need to find professional help, but there are many landscaping decisions and tasks you can undertake and enjoy doing yourself.
The Homeowner's Complete Tree And Shrub Handbook
by Penelope O'Sullivan is a good first resource to help you figure out what is already growing in your yard. If you need help coming up with designs and deciding what to plant you can build your confidence and draw inspiration from Joel Lerner's
Anyone Can Landscape!
Fall is a good time to do something about those bare patches that started showing up in the lawn during the dry spell we had in August. If you need help figuring out what kind of grass seed is best and don't want to use a lot of pesticides and fertilizers check out Paul Tukey's
The Organic Lawn Care Manual
. Or maybe you've decided grass just isn't the right thing for those persistent bare spots and you want to try something else. If that's the case then take a look through Barbara W. Ellis'
Covering Ground
for a glimpse of the many different kinds of plants that might fit the bill.
Why did the flowering cherry you planted last spring near the old walnut tree fail to thrive even though you watered it every day? Can it be saved? Should you feed it or move it? A look through
The Encyclopedia of Planting Combinations
might reveal the problem and help you decide what to do next. If you want to use hardy native plants in your landscape you should read
Armitage's Native Plants for North American Gardens
by A. M. Armitage or
The American Meadow Garden
by John Greenlee.
If flowering plants are your passion and you want something blooming in your landscape all year round you should consult
Trees and Shrubs for Fragrance
by Glyn Church and look through P. Allen Smith's
Colors for the Garden
. Don't forget that pine trees and fir trees also make appealing and fragrant additions to the home landscape. Richard L. Bitner's
Conifers for Gardens
describes many varieties that will thrive in our climate.
Come by any
Fauquier County Public Library
and let us help you create a home landscape you'll enjoy for many years to come.
Happy fall planting!
Jeanne @ Warreton